DAY 2
Day 2 was pretty short because we had a flight to catch back to Lubbock at noon. We hadn't gotten to go see the new Blackmagic Design Pocket Cinema Camera 4K yet, so, with our exhibitor badges, we headed over to the convention early to give it a look. We didn't really get to hold it, since the show floor wasn't opened yet. We did, however, get to meet Tor Johansen, who saved our butts last year when we had to send in a camera for some repair. Tor is a great guy and does some phenomenal work! While we were standing there Roy Wagner, ASC and his little teacup Chihuahua, Scarlett, walked up and we got to meet Roy as well. That was kinda crazy just because it's not every day you get to meet ASC Members.
After that booth, we made a pit stop at Tokina to see our friends one last time before we jumped in an Uber and headed on our merry way.
Meeting Stu Maschwitz
FANBOY TIME!!! Years ago, Ross purchased a book from Stu Maschwitz called "The DV Rebel's Guide" about how to do visual effects with effectively no budget. We have used that book to the point that it's kinda starting to fall apart. You probably don't recognize his name, but I guarantee, unless you've lived under a rock, you've seen his work. Stu was on the team at Industrial Light and Magic that did all digital work to the original Star Wars trilogy. Hate it or not, it's still cool to meet someone who's worked on Star Wars. Secondly, Stu designed and crafted the comic book look for the film, Sin City. While twittering a few days before the show, Ross found out that Stu was going to be at NAB since he works for Red Giant. After some back and forth on twitter, Stu connected Ross with the Red Giant Team to Alpha test some software at the Renaissance Hotel during our first day at NAB.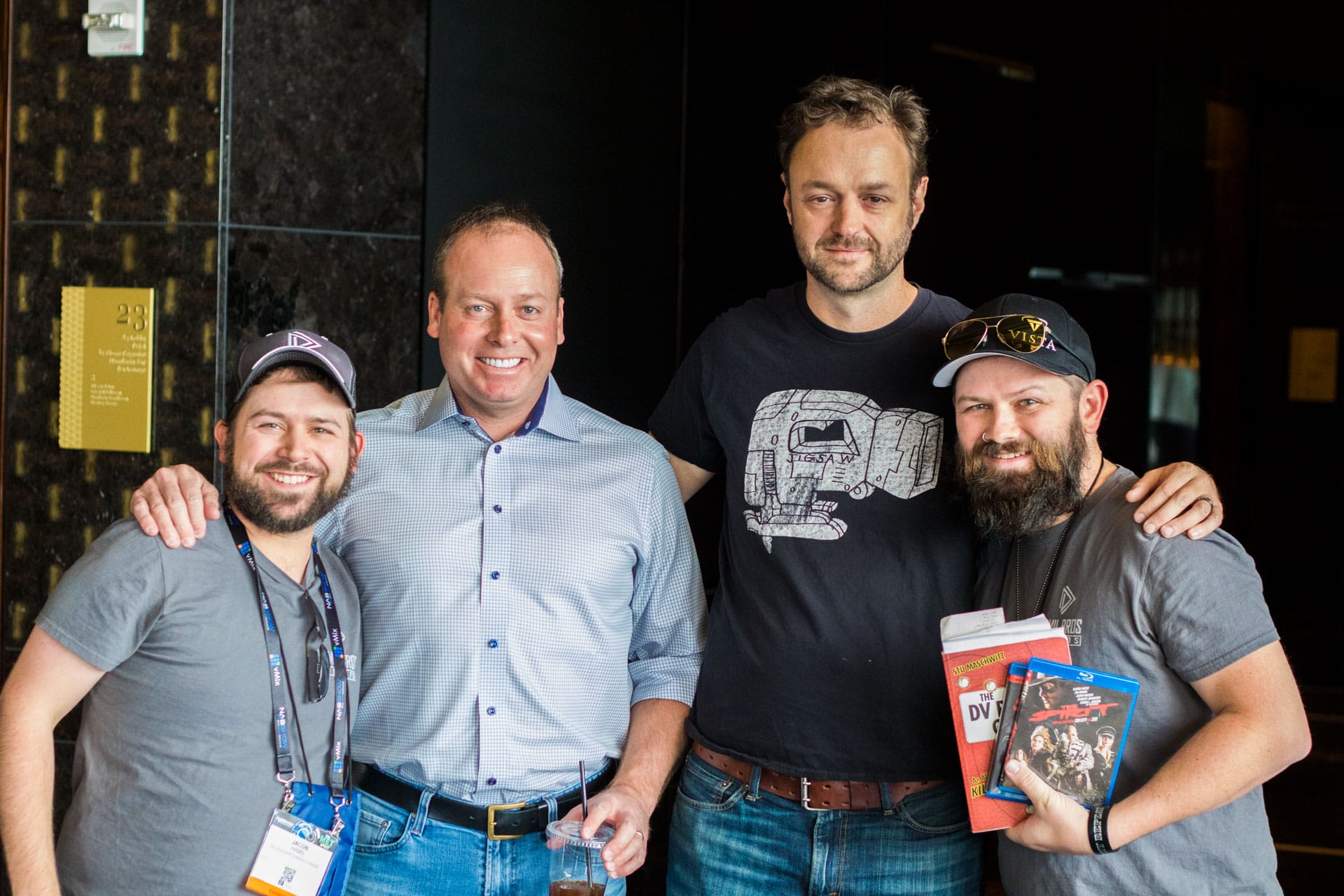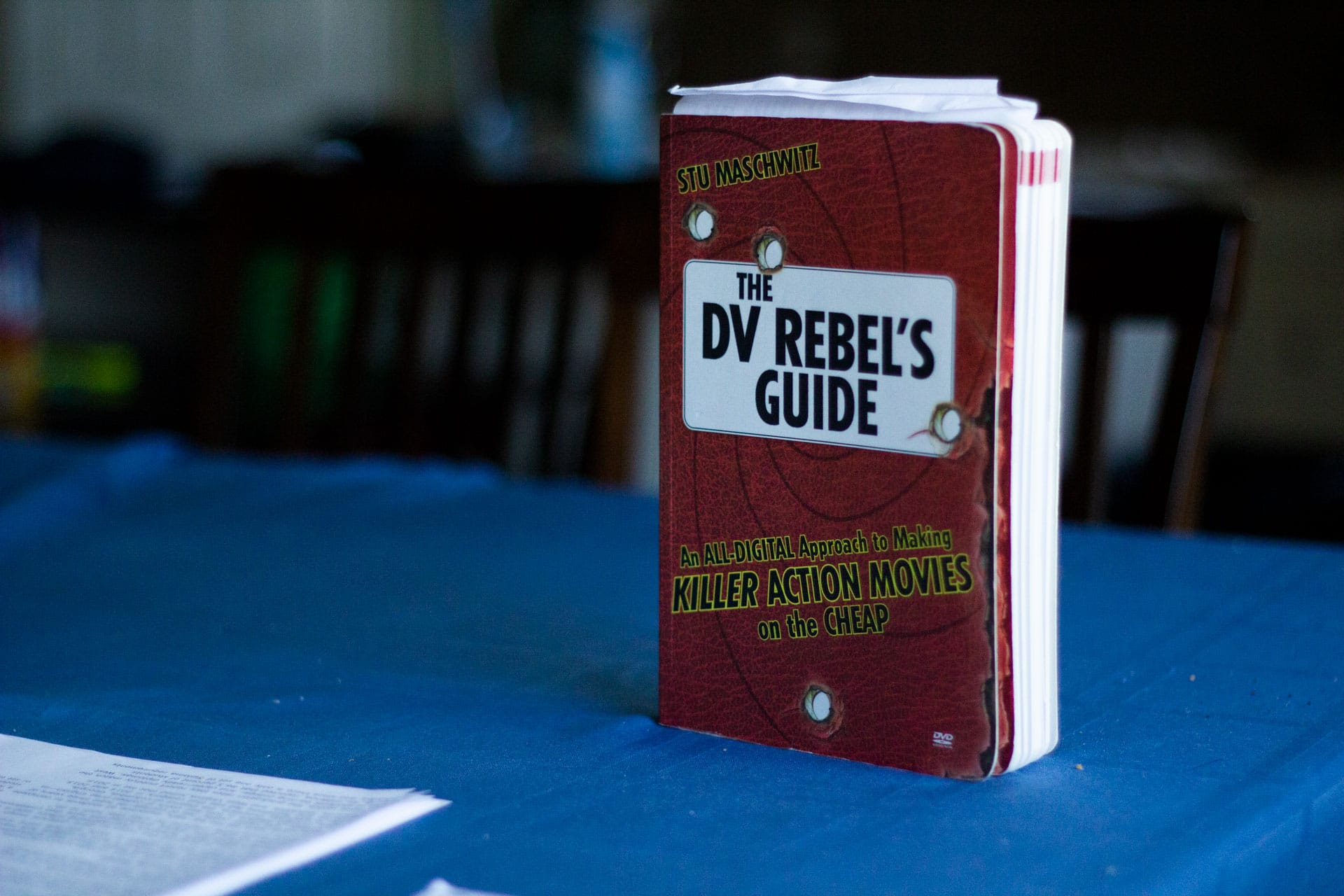 So originally, part of our plan during our first day of NAB, was accepting the invitation to head over to the Renaissance hotel and alpha test some Red Giant Software. A stress fractured foot didn't agree with those plans. So we had to decline, but we kept in touch with Stu over twitter and figured out how to connect up and meet him. Stu told us he was going to be in the lobby of the Mandarin Oriental Hotel for a few minutes if we wanted to connect. So, we made our beeline to the hotel and waited anxiously in the lobby. At this point, we look like a bunch of hobos (well, at least Ross and I did. Dansby looked relatively clean.) Standing in a hotel lobby a few steps above our pay grade. Out of the elevator walks Stu, who was A LOT taller than we expected. Accompanying him was Red Giant CEO Chad Bechert. We didn't know this until he introduced himself. WHOAH. Stu was really generous to give us a bit of his time and I'll never forget this. Ross brought his copies of the DV rebel guide as well as Sin City and The Spirit on bluray for Stu to Sign. Stu took the beat up book and said "This looks like a well used copy. That's awesome." We talked a little shop, got a photo, and had to be on our way. These guys probably meet people like us every day, but it really meant a lot to us to have just a little bit of their time and thank them for giving us an edge in this industry.
Tired Yet?
Did it wear you out reading this? Because it sure wore me out writing it! We hope you enjoyed this little taste of NAB. Hopefully we'll be back next year! As always, if you want to keep up with us more than just when we write blogs (sparsely) , connect with us on Facebook, Twitter, and Instagram!