Dobbs Law Firm: Here To Stay
We've got a treat for you today! This is celebration of the Dobbs Law Firm's 3rd anniversary as a Hamil Bros Studios video production client. Spencer Dobbs, like the rest of the world has been impacted by this current virus scare, but it's not stopping him from representing the great people of West Texas. Spender wanted a 30 second ad that let his customers know he's not going anywhere. Check it out and let us know what you think. 
We couldn't be more proud of this ad. Spencer sent us a local ad from another business in the Permian Basin with a similar message and told us, "I love this message, I'd like to do something similar." We decided this was a video challenge that we were more than glad to take on. 
The Process
Writing the copy for the ad was a breeze, because we knew his message was simple. "We've survived hard times before and we will continue to persevere." After writing, it came down to enlisting the help of West Texas Aerials to crush the aerial video and you saw it, it is AMAZING! Shawn did a fantastic job and this is exactly why we hire him time again for our aerial video needs. We didn't even have to be there to direct him, we just gave him a shot list and knew he'd deliver beyond our expectations.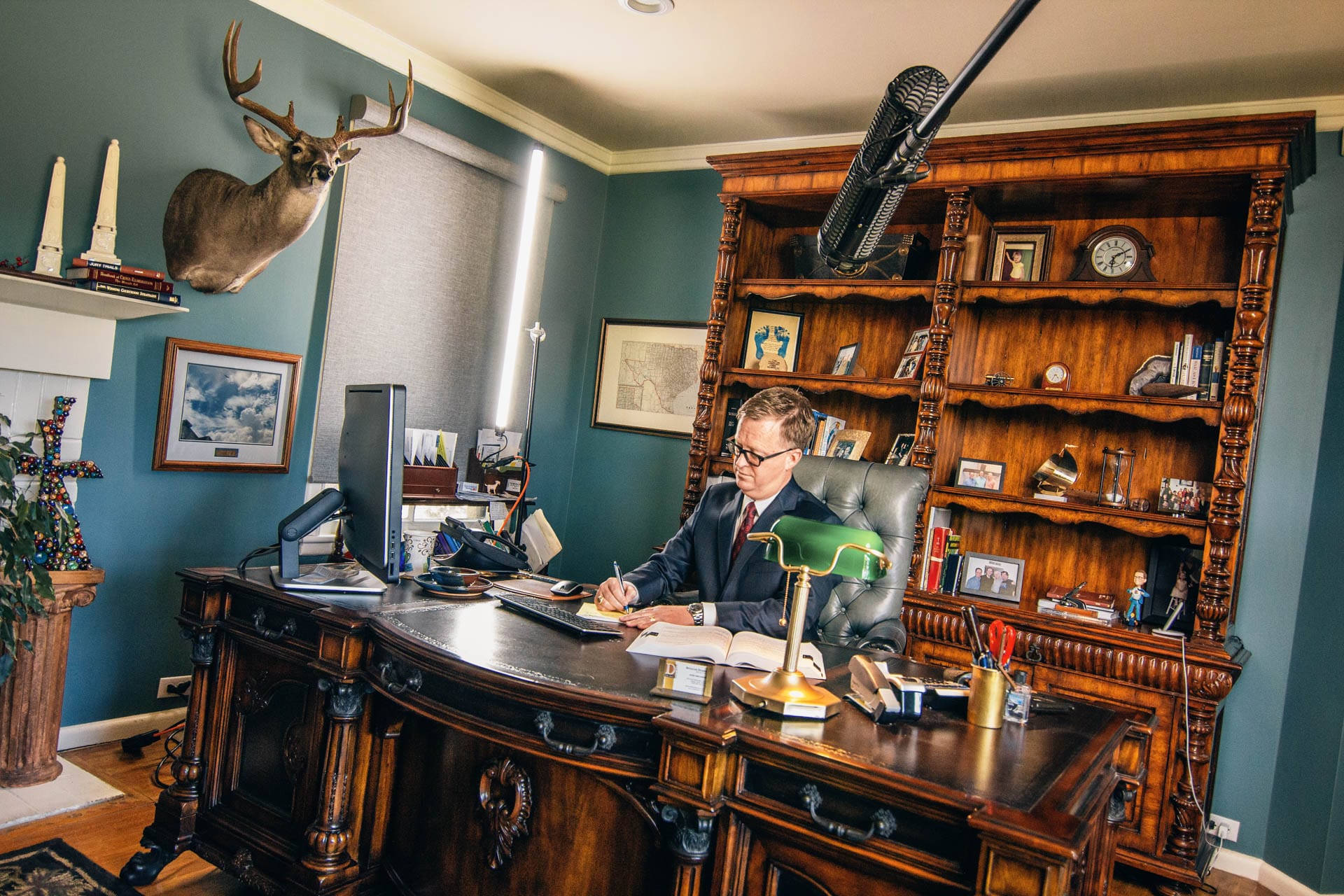 After Shawn killed it on the aerial video side, we knew we had to get our hero shot for the ad. Spencer truly is a hero. We drove to Odessa, loaded in the gear and got set up for the shoot. I'd be remiss if I didn't mention how gracious and hospital Spencer's team is. Hope and Kim are always so amazing to us and greet us with smiles every time we walk in the door. You know you're going to be treated with dignity and respect and that goes a long way in this business. Their office gives you the feeling that you are cared about and you mean a great deal to them. 
We got the video we needed and the actual shoot time was pretty low because Spencer always delivers SO WELL on camera. It was time to pack up and head back to Lubbock. 
We're going to be doing a blog post or series on the post production for this ad. A LOT went into the edit, VFX, color and sound design. I won't go into those details here, but suffice it to say that Ross absolutely knocked this ad out of the park. We sent it to trusted colleagues and folks of different statuses and backgrounds and it came back with overwhelming positive feedback. 
It's a Wrap!
This ad met a need to adapt to the current climate. We understand things are uncertain for a lot of these small businesses nowadays. We want to help you get to the new normal of your business and help you communicate that to your customers. If you need to let them know how you're moving forward or that you're still around, give us a shout! We can definitely produce the perfect video for your needs! In the meantime, enjoy the BTS gallery here at the end of the post and keep a look out for new blogs coming soon!