Dobbs Law Firm – Death Highway Ad
We have nourished a relationship with Spencer Dobbs at Dobbs Law Firm over the past few years and we're very proud to take care of his work. You may have seen our first production for him centered around his client testimonials. If you haven't seen them, make sure to check them out here! Spencer has told us how valuable those testimonials have been to the Dobbs Law Firm.
Early on in 2018, Spencer reached out to us with an article on highway 285 coming out of Pecos, Texas known as "Death Highway." The name was not given lightly due to the amount of oil field traffic fatalities that take place on that highway. We began coming up with a concept that we felt like would drive the message home in a 30 second ad. As we do with all our projects, we tasked ourselves with doing something we hadn't done before.
Let's Hit It!
Okay, that may have been a poor choice of words… We decided to bring more visual effects (VFX) into the game rather than doing your every-day, average "talking head" interview set up. On top of the VFX, we chose to conduct his interview outside and stage it where it looked like emergency lights were just off camera. I have to give credit to Ross for coming up with the idea and running with it.
The shoot was mostly simple, but we had our complications like with any shoot. We brought Josh Dansby along to assist and he was invaluable as always. We really appreciate all the hard work that Josh has done for us!  It's important here to thank Matt and Courtney Lee for letting us shoot out in front of their house. It was HUGE finding an appropriate location and they gladly provided it!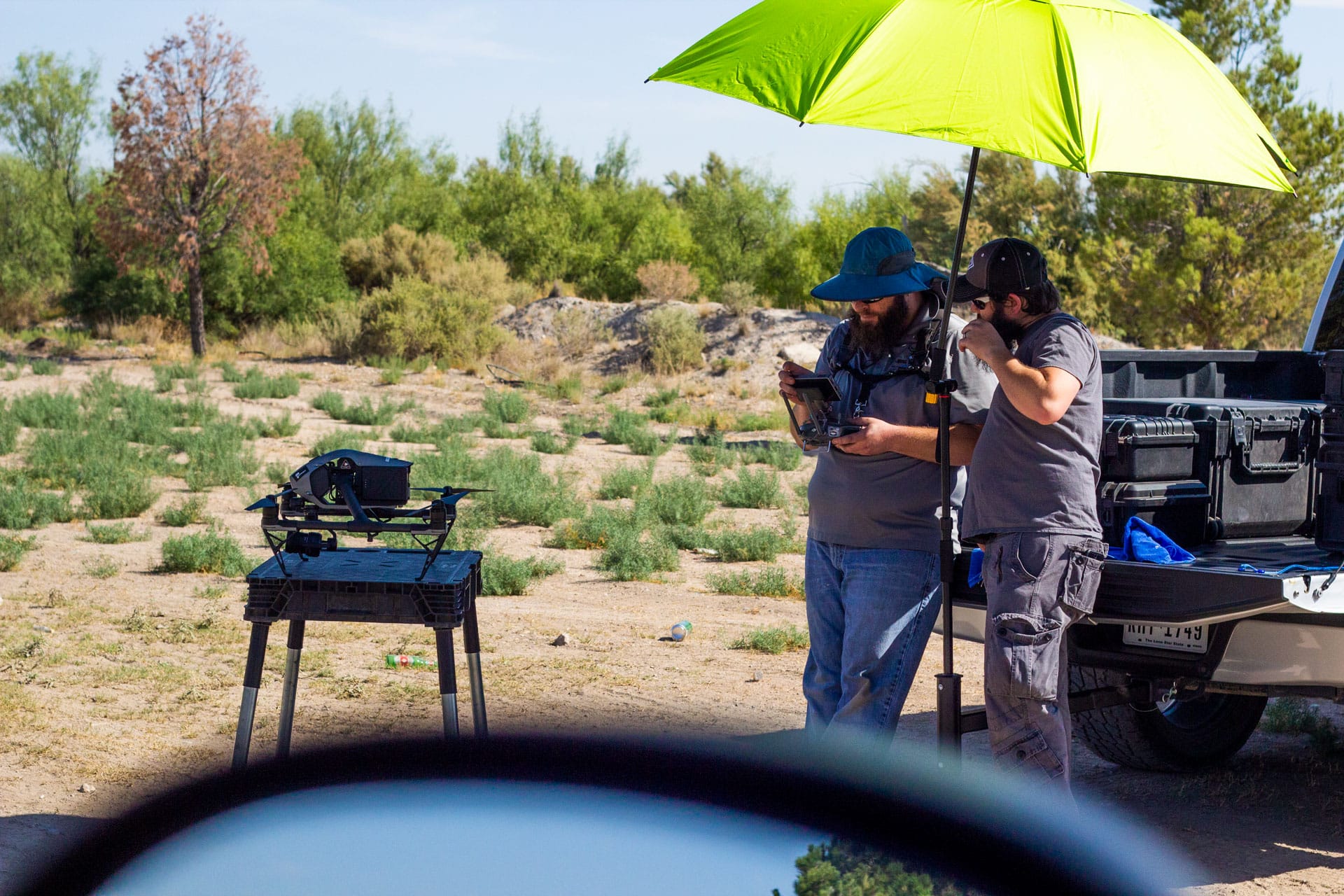 The Scary Part
We got through the talking head bits, but that was just the beginning. From there, the next shoot took place pretty early the next morning. We were tasked with getting aerial footage on Highway 285 coming out of Pecos. We decided to push this shoot to later in the morning when we still had good light, but we could also be safe. When we say this is a deadly highway, we mean it. We met up with Shawn Lamm from West Texas Aerials in Pecos around 9 am. From there, we went just outside of town to a roadside rest area where Shawn could rock out the Aerial shots. We wanted to capture the essence of this highway and as you saw in the ad, we GOT IT. There was no digital altering of this aerial footage. When you see the trucker drive into oncoming traffic just to pass a driver driving the speed limit, it's all VERY REAL.
55000We got our shots and got out of there! I didn't want to stay any longer than we had to for safety's sake.
Lastly, we had one final shoot using Josh Dansby as our driving oil field worker. We shot that footage in Lubbock a little south west of town.
Once the footage was in the studio, it essentially edited itself. It was just a matter of doing the VFX to create the destroyed 18-wheeler in the back of the talking head frame. It was a great ad and we look forward to continued work with Spencer! He's always a blast with whom to shoot!