First Contact
What happens when Jason Corley's camp calls us on Sunday afternoon with a potential, last-minute shoot about supporting local first responders? We rock the hell out of it. Monday morning, we still weren't sure if the shoot was happening, but, by the afternoon, we were locked in and it was crunch time.
I did have a preconceived idea that I wanted Jason to run with, if it suited his campaign. The foundation was one of the last things Jason says in the commercial, "the first responders have our back. It's time to elect someone who has theirs." I also wanted to be able to shoot some epic slow motion shots of the first responders in action. We just had little to no time.
Location
We were able to get into a volunteer fire station, but there was a caveat: we couldn't even get in the building until 4pm at the earliest. The other issue was that it really wasn't what one would expect when thinking of a fire station. It was a metal building with 3 garage doors. It really wasn't much to look at, but, we work with what we are given.
When we were able to get in the building, we really didn't see a whole lot of room to be able to shoot this stuff in. Fortunately, the volunteers were extremely accommodating and they cleared the space we needed and we got busy.
Lighting
First thing we wanted to do was get Jason's talking-head shots out of the way so we could better plan what our b-roll shots would be. The lighting was fairly simple. The idea here was to make this place look as freaking cool as possible. We got Jason keyed with our infamous Hurlbut Batten Light and used an Arri 300 as his back light. For the rest, we threw up some LED panels to give us some accent lights and some color contrast in the back. The last touch was putting up one of our Source4 LEEKO lights to blast a shaft of light through the room. Add some haze, and, voila! A magical concoction of visual delight.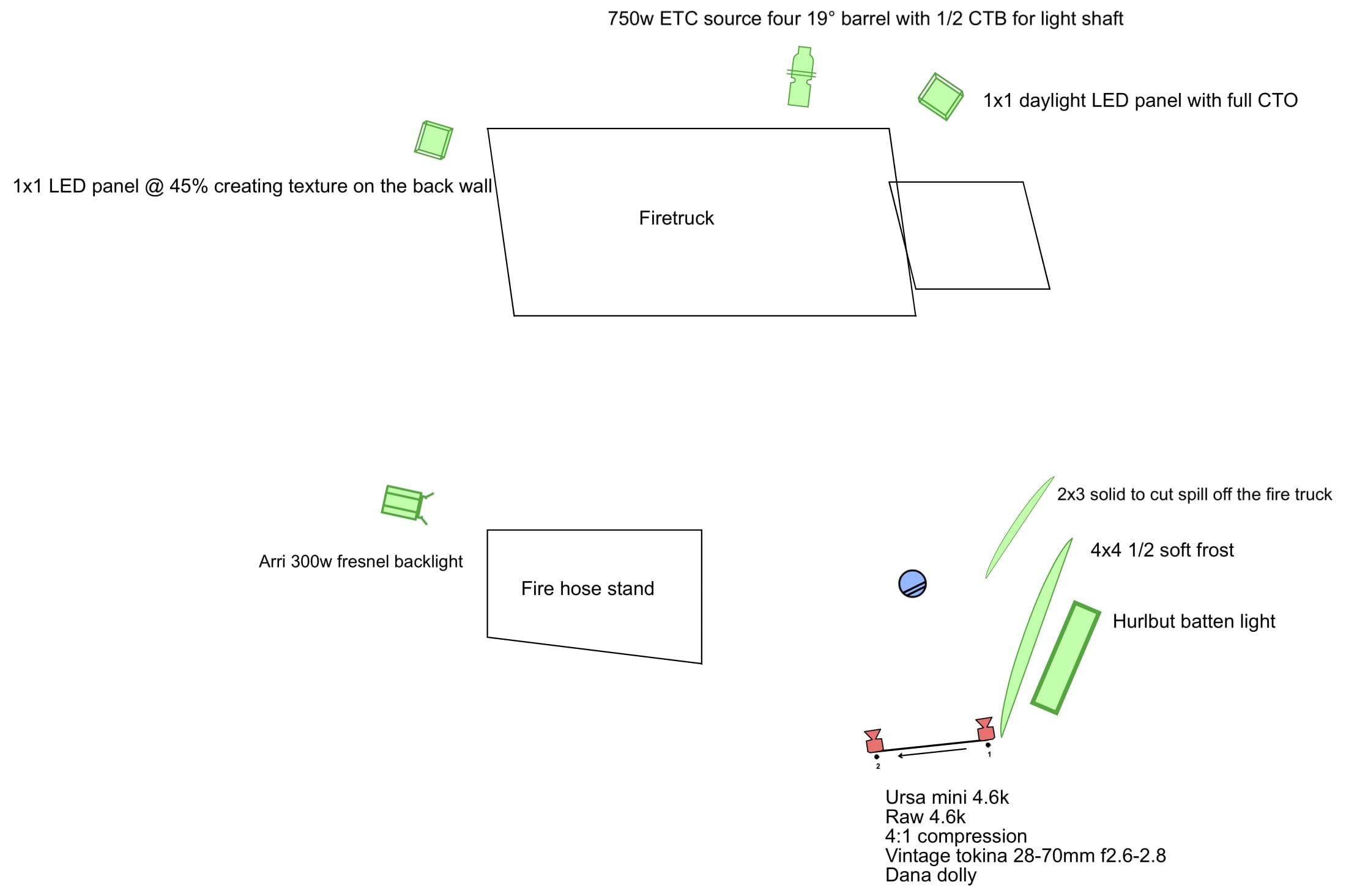 B-Roll
We got Jason's lines knocked out fast. Jason blew through them like a champ and really delivered them with some conviction.
Once, we got his lines captured, it was time to move into our action shots. Initially, the first shot was going to be the firefighter putting on his jacket then cutting to him grabbing the helmet. On a whim, I decided to have him run the whole motion and get both pieces of action in one take. I'm really glad that I got that extra shot because it timed out perfectly. I also have to mention that I envisioned a really strong backlight on this character and Jacob nailed its placement.
The next shot was the fireman walking to the truck. This shot was Jacob's baby. Beyond some composition changes, it was Jacob's idea and it turned out fantastically.
The rest is just history. We got a few takes of our firefighter climbing in the truck, for a few takes of two of our guys closing the doors then it was time to get their exit shot.
We really wanted to use the dolly on the last shot, but, it was too dark outside and we didn't have the time to light it properly and really make it work. So, Jacob had the idea of putting the camera on the tripod and lowering it down all the way. It was perfect. We also had to turn on the driveway lights and they added a lot of color character to the whole shot.
Editing and Sound
The edit really came together seamlessly. It's quite possibly the easiest edit I've ever done.
The sound is really what took this up a notch. You can listen here to all of the sound assets that were placed in the background and really added to the drama.
Coloring
I have to say, this is, by far, one of my favorite color jobs. Especially on Jason's shots. See the galleries to see the evolution of the color.
Conclusion
From the time we arrived on set, to the time we delivered this ad was just over 22 hours. I don't know that we've ever had such a short turnaround on a piece that had so many narrative pieces, but, given the time crunch, this ad is one of the best pieces we've ever done and we're grateful to Jason and David for allowing us this opportunity!
P.S. Vote for Jason
P.P.S Pardon the hideous guy on the right… I just wanted to prove that I voted with this little sticker that I got.