Welcome to week 12 of Movie of the Week here at Hamil Bros Studios. We've fallen behind a little on this series due to a LOT of craziness happening. This week we're going to talk about one of my favorite baseball films, "42" Starring: Chadwick Boseman and Harrison Ford, along with a host of other great cast members.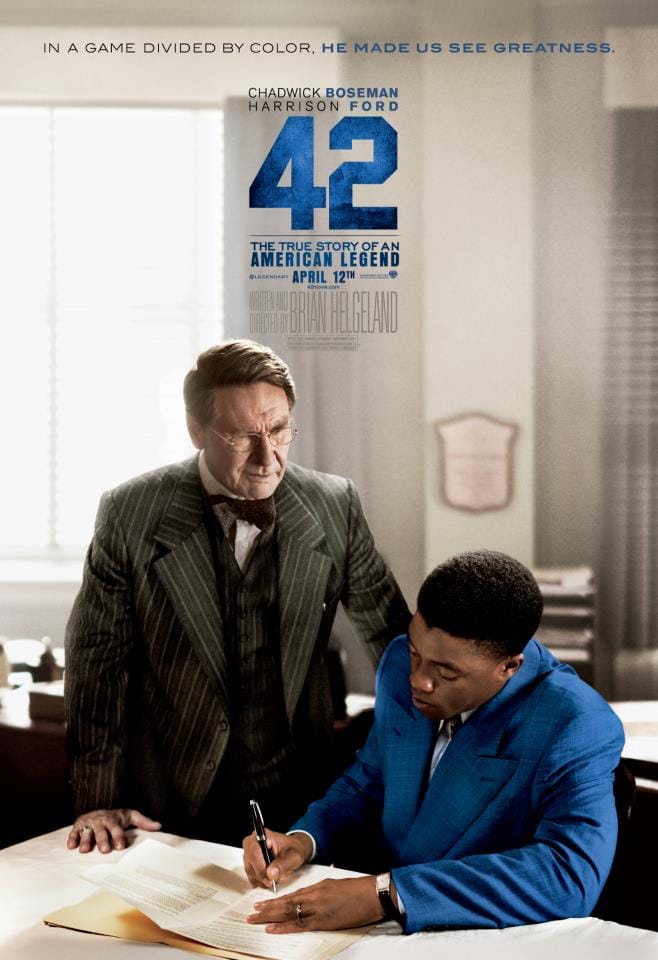 PLAY BALL!
Unfortunately, I didn't get to experience this film in theaters, but that doesn't make it any less great. I'm a moderate fan of baseball. If it's on, I'll watch it, but I'm not die hard by any means. This film caught my eye just because of it's amazing imagery in the trailer. Plus, Harrison Ford is ALWAYS on my good list. The story is of the amazing Brooklyn Dodger, Jackie Robinson. Being African American, his addition to baseball at that time was VERY controversial. This incredible story takes place during all the Civil Rights movements. Chadwick Boseman knocks this film out of the park… pun intended.
#Cinematography
I LOVE the look of this film. It's so golden to me and it makes you feel warm and fuzzy inside. The character development is top notch! I love the smokey feel of Harrison Ford and the atmosphere he's in. The way they lit his office is OUT OF THIS WORLD. Killer. If you want to watch a film that inspires you, definitely pick "42" up or download it from amazon. I don't care how you watch it, as long as you watch it!
Hamil Bros Studios is a high quality video production company based in Lubbock, TX. Their work spreads throughout West Texas, Eastern New Mexico, and beyond.